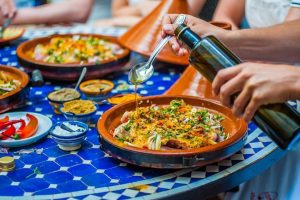 Once you are in Marrakech, there are several dishes to enjoy eating it, you will fall in love with the different flavors of each dish.
As a result, you will be addicted to them, which means you will love to know how they prepare it and what are its secrets. We take that in the eye of consideration that is why our agency offers you the opportunity to learn how to cook a Moroccan meal (Tajine, couscous or Pastilla).
In addition, knowing how to cook is better than enjoying the food made by a local cook, it is another feeling when you eat something you have made by yourself. On this half-day cooking class, you will have the chance to be your own cook, and it's time to add Moroccan meals on your menu's list, then enjoy eating what your own hands have made with a group of people.
This culinary tour will begin with a pick up from your accommodation in Marrakech, and then you will meet a friendly cook and his team in a beautiful place. Then, you will start discovering the Moroccan cuisine, and learn how to match your recipes yourself so as to impress your family and friends when you back home.
Thus, this activity teaches you a slice of the Moroccan life and pushes you step toward the Moroccan culture in general.