Welcome to Menara Morocco Tours
Menara Morocco Tours has years of experience looking after guests coming to Morocco. We offer great insight into the culture and people of this exotic city and its gorgeous surroundings.
Whether you are looking for a knowledgeable guide to show you the old city and historic sites, or to help you wind your way through the shops in the Souks, we know all the spots and enjoy sharing our expertise and making your visit exceptional. Our aim is to unveil the mystery and magic that Marrakech is.​
Through our customized services, Menara Morocco Tours will welcome you to a kingdom of extraordinary sights, sounds and experiences.​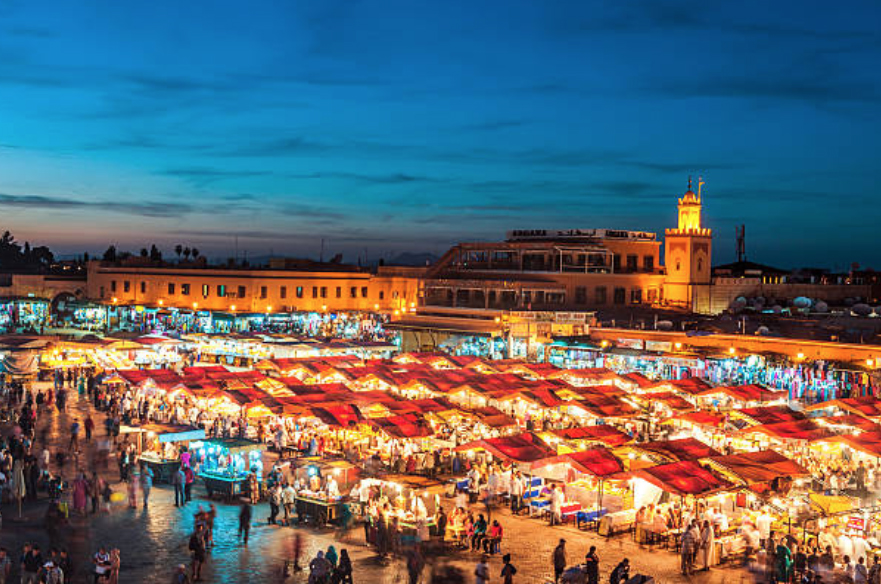 Marrakech (مراكش), also known as Marrakesh, is one of the imperial cities of Morocco.
The name Marrakech originates from the Amazigh (Berber) words amur (n) kush, which means "Land of God." It is the third largest city in Morocco, after Casablanca and Fez, and lies near the foothills of the snow-capped Atlas Mountains. It is a few hours from the foot of the Sahara Desert. Its location and contrasting landscape has made it an enviable destination in Morocco. The city is divided into two distinct parts: the Medina, the historical city, and the new European modern district called Gueliz or Ville Nouvelle. The Medina is full of intertwining narrow passageways and local shops full of character. In contrast, Gueliz plays host to modern restaurants, fast food chains and big brand stores.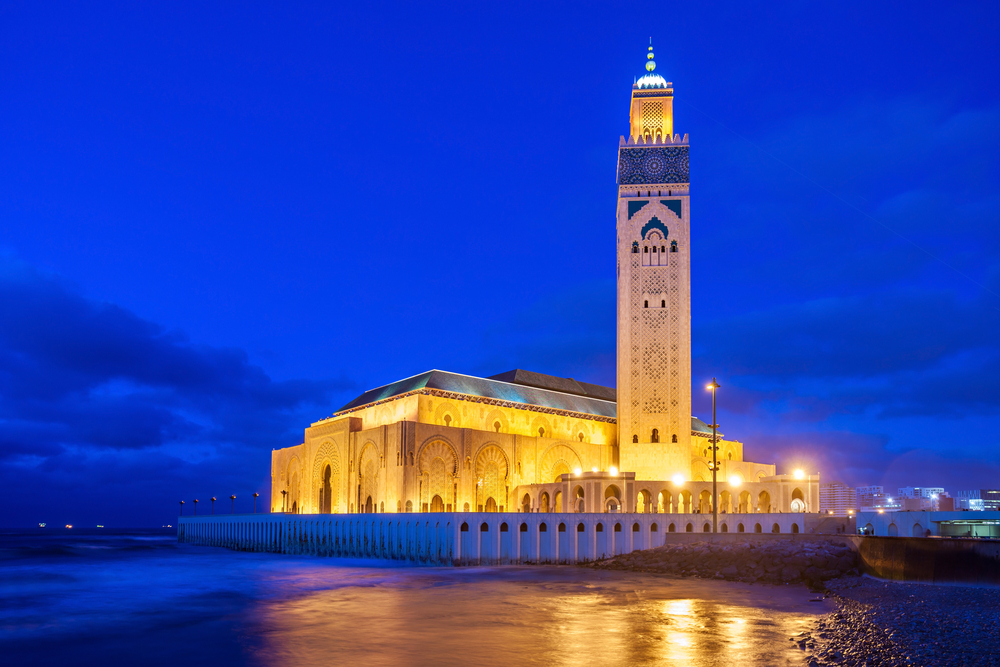 Casablanca (Arabic: الدار البيضاء), almost universally referred to as 'Casa', is the cosmopolitan.
The modern city of Casablanca was founded by Berber fishermen in the 10th Century BC and was subsequently used by the Phoenicians, Romans, and the Merenids as a strategic port called Anfa. The Portuguese destroyed it and rebuilt it under the name Casa Branca, only to abandon it after an earthquake in 1755. The Moroccan sultan rebuilt the city as Daru l-Badya and it was given its current name of Casablanca by Spanish traders who established trading bases there. The French occupied the city in 1907, establishing it as a protectorate in 1912 and starting construction of the ville nouvelle, however it gained independence with the rest of the country in 1956. Casablanca is now Morocco's largest city with a population of almost 4 million and also boasts the world's largest artificial port but no ferry service of any kind . Casablanca is also the most liberal and progressive of Morocco's cities. Young men flirt brazenly with scantily-clad women, designer labels are the norm in the chic, beachfront neighbourhood of 'Ain Diab and many young Moroccans speak to each other exclusively in French. But not everyone is living the Casablancan dream. Tens of thousands of rural Moroccans who fled the drought-ravaged interior to find work in the city are struggling under high unemployment rates and expensive housing. The poverty, prevalent in slums on the city's outskirts, has led to high rates of crime, drug use and prostitution.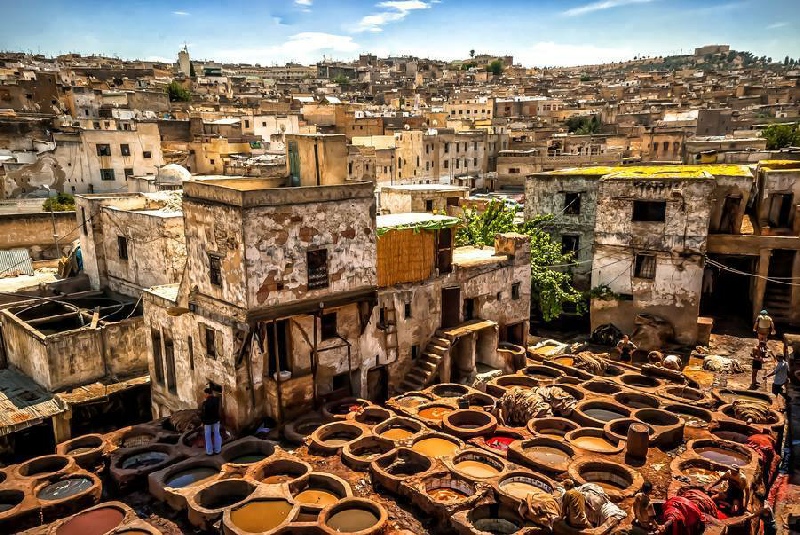 Fez (فاس) (French: "Fès") is one of the imperial cities of Morocco.
Fez is the medieval capital of Morocco founded by Idris I in 789, and a great city of high Islamic civilization. Fez has the best-preserved old city in the Arab world, the sprawling, labyrinthine medina of Fes el-Bali, which is incidentally also the world's largest car-free urban zone. Within the medina transports of goods is provided by donkeys, mules and handcarts. Understand that the city infrastructure is not necessarily prepared for tourism, especially English speakers. Try to use Google translate to get across, but learning basic words won't hurt, and you will see people appreciating your efforts. Map of Fez (Overview) Leaving the airport, change some money (€10) in the change, for the bus. After leaving, go slightly left, into an alley. Walk for about 200m, until you see a bus stop marked by a sign. Wait there for a blue bus. Resist the offers from touts and yelling taxi drivers. They will try to scam you into paying anything from €5-20. So unless you want to spat at these hard-working Moroccans, who can only watch crooks scamming tourists, wait for the bus. You will pay about 50 cents for it, and support a tax-paying company, and the country in general. Also: nobody will think you are another one of 'these' tourists.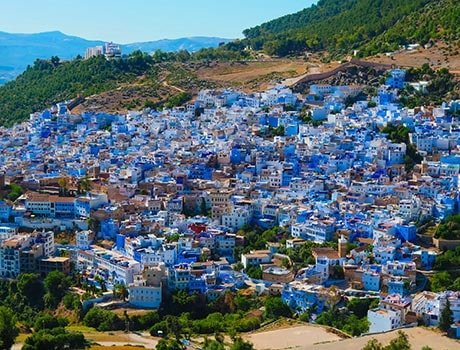 Tangier (طنجة) is an important port city in Morocco.
Tangier is a fascinating Moroccan city to visit. It has many of the things that travellers love--a sense of exotic mystery, interesting history, beautiful vistas, unspoiled beaches Tangier is an uncontrolled mix of north Africa, Spain, Portugal and France. It is located in northern Morocco, and was under joint international control until 1956. Tangier is separated from Spain by the 20 miles of the Strait of Gibraltar. Frequent ferries make the short crossing from Europe each day, and many cruise ships sailing between the Mediterranean and the Atlantic often include Tangier as a port of call.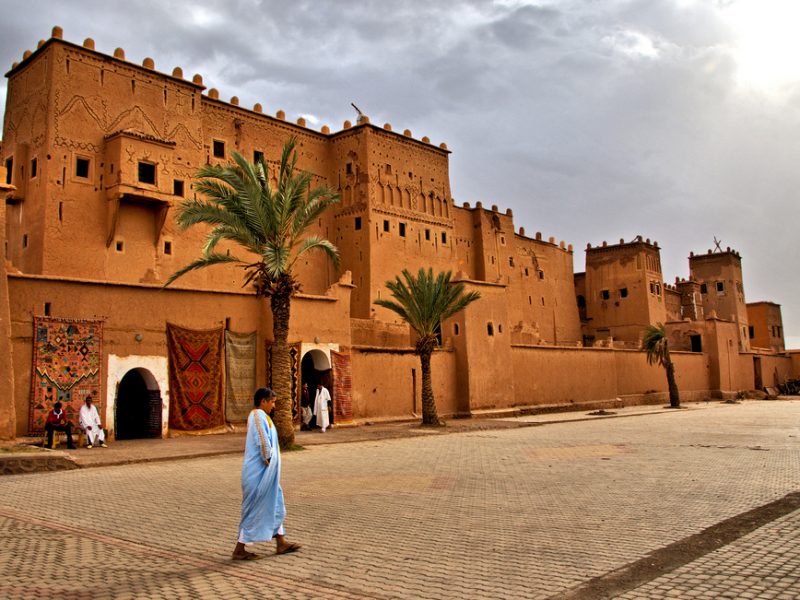 Ouarzazate (ورزازات) is a city in Morocco.
Ouarzazate is relatively small (~60 000 habitants) and, for Morocco, a quiet town, built mostly along the main street - Avenue Muhammed V. Ouarzazate is situated at an elevation of 1,135 metres. Its name comes from a Berber phrase meaning "without noise" or "without confusion". In the past, Ouarzazate was a crossroad for African traders seeking to reach northern cities in Morocco and Europe. During the French period, Ouarzazate expanded considerably as a garrison town and administrative centre. It is the largest town in the Moroccan Sahara.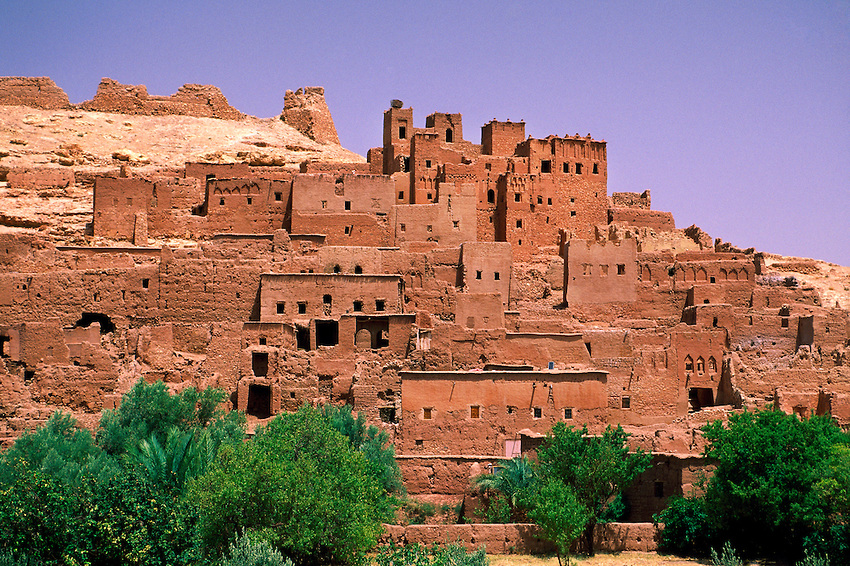 This is a traditional Mud Brick city on the edge of the High Atlas Mountains. It is on the UNESCO World Heritage List and has featured in many films, mostly as a replacement for Jerusalem. It has appeared in more than 10 movies, including Lawrence of Arabia and Gladiator.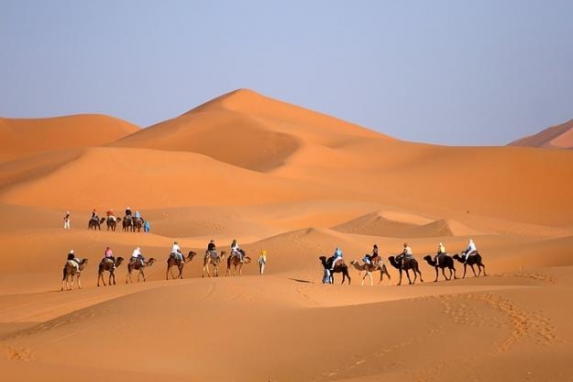 Merzouga is a village in the Sahara Desert in Morocco, on the edge of Erg Chebbi, a 50km long and 5km wide set of sand dunes that reach up to 350m high. Most people are here to take a camel safari into the dunes, and to get a taste of remote (tourism-influenced) Berber life. Winter months (November to February) are cool but sunny, with daily high temperatures only slightly over 10 C, and cold nights. Spring until April is pleasant, with temperatures from 25 C up to 30 C in the afternoons, and with cool nights. Summer months are hot. In winter and spring there is occasional short rain or drizzle (a couple of days per month, on average), but heavy rain is unusual. Best time to visit Merzouga is February to April.